(CNN) -- President-elect Barack Obama on Wednesday will announce his pick for "chief performance officer," a newly created position that will work on the federal budget and to reform government, a Democratic official told CNN.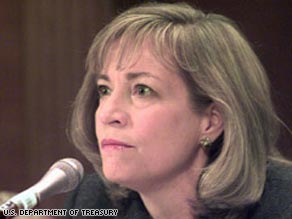 Barack Obama has selected Nancy Killefer to be his CPO, according to two Democratic officials.
Obama has selected Nancy Killefer, according to two Democratic officials. She is a senior director for McKinsey & Company, a management consulting firm. She was an assistant secretary of the treasury in the Clinton administration.
The CPO will "help put us on a path to fiscal discipline," a Democratic official said.
The announcement comes a day after Obama told reporters that the deficit will probably hit $1 trillion this year and that "potentially we've got trillion-dollar deficits for years to come."
The president-elect said he would need to "invest an extraordinary amount of money" to get the economy back on track. He intends to push through what is expected to be an $800 billion economic recovery plan as one of his first acts in office.
Obama has also promised that his administration will embrace budget reform. He vowed on Tuesday to "bring a long-overdue sense of responsibility and accountability to Washington."